For over 20 years, we have been offering our clients individually tailored risk management for their investments. This is done either directly, using our integrated risk management approach, or indirectly through a risk overlay.
Integrated Risk Management – Risks Directly Under Control 
With integrated risk steering, the risk is managed directly in the portfolio. In the first step, we work with our clients to define an individual risk profile with the desired risk-bearing capacity. The investment objectives and limits are then agreed with the portfolio management team. Integrated risk management involves measuring and identifying the risks in the portfolio. If there is an increased risk appetite in the mandate, active risk reduction measures are initiated in collaboration with the portfolio management team.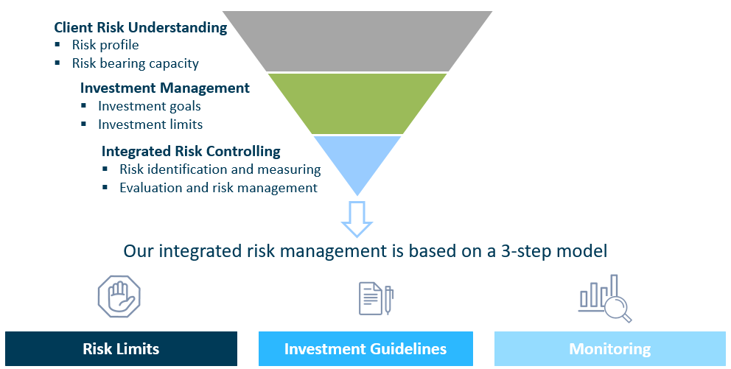 Risk overlay – indirect risk management with derivatives
In a master fund structure with several segment managers, value protection is ensured by a risk overlay. This enables comprehensive and coordinated hedging of the overall mandate without the need for a direct sale of the assets of the relevant managers. 
In overlay management, the entire portfolio risk is efficiently managed by taking an overall view. This is typically the task of an additional segment which hedges the aggregated risk assets in stress phases with suitable derivatives. The risk budget agreed with the investor in advance and the dynamics of the markets determine whether and to what extent our overlay manager intervenes. 
The advantage is that your basic asset allocation (strategic asset allocation) is not changed. The overlay also enables us to provide investors with uniform and transparent reporting for all investments.