​FERI is a byword for comprehensive, individual, transparent and sustainable advice and support. With over 30 years of experience, we offer private clients a broad range of asset management services.
Our goal is to support our clients in all asset-related matters. We offer holistic investment strategies (which take into account all relevant financial and family backgrounds), a selection of the best investment solutions, comprehensive controlling and clear reporting.
Our independence enables us to act freely on your behalf.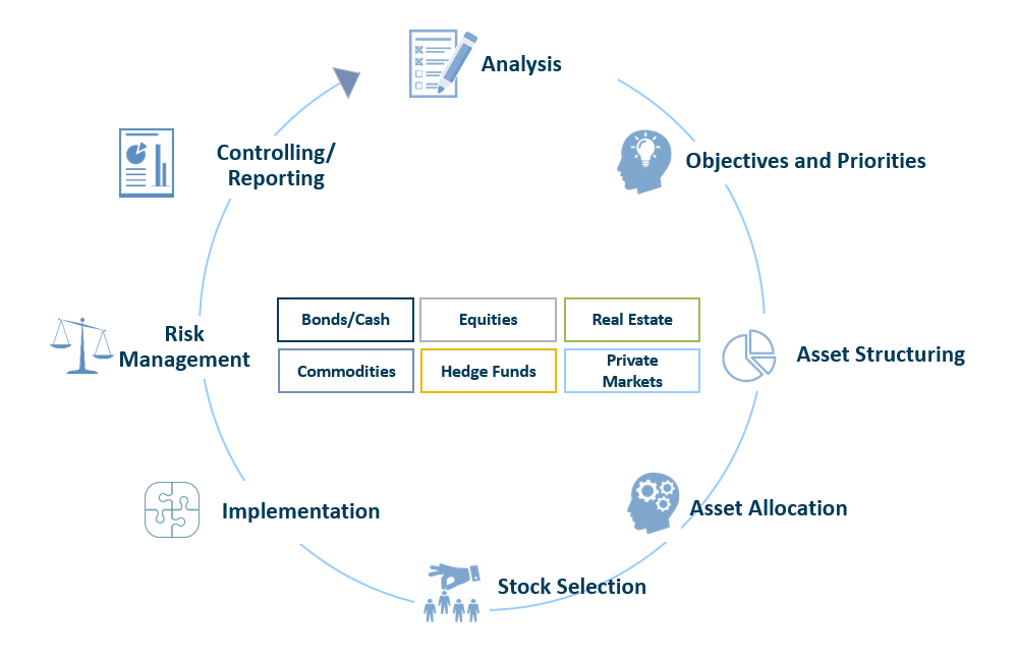 The unique combination of fundamental research and innovative capital market analysis has always formed the central basis of our work. This is where we develop our forecasts for all relevant economic indicators and place monetary and fiscal policy decisions in the global context. The contents and results of investment research are an integral part of our services and are then incorporated into the investment strategy.
Your personal investment strategy – your goals count
Based on the results of FERI investment research, we design your personal investment strategy for a variety of liquid and illiquid asset classes. We work with you to define a return target and a risk framework according to which all investments are aligned. On this basis, our experienced specialists then implement all investment decisions professionally and prudently.
Asset Allocation with FERI – the right mix for your portfolio
Our investment experts implement your individual long-term strategy taking into account current market conditions. FERI is a byword for a flexible, essentially anti-cyclical investment philosophy that offers protection against unexpected market crises and enables the early identification of strategic investment opportunities – always true to our guiding principle: deeper insights. greater rewards. This gives you the ideal combination of all available asset classes in one portfolio, whatever the market situation.
Comprehensive controlling and reporting – always keeping an eye on your goals 
It is not only the implementation of your investment strategy that is important, but also regular reviewing and adjustment of that strategy. Our specialists take care of this for you and inform you about all the steps in a clear reporting system for your portfolio. 
Thanks to our flexible approach, you can invest in tailor-made multi-asset portfolios as well as selectively expand your existing core portfolio with alternative return drivers. If you are interested in specific components such as alternative investments or risk management, please follow the instructions below.